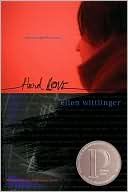 From amazon.com
John Galardi is a loner, unable to express his feelings except in the pages of his zine, "Bananafish." He finds inspiration in another zine, "Escape Velocity," created by Marisol Guzman, a self-proclaimed "rich spoiled lesbian private-school gifted-and-talented writer virgin." Her sharp observations make John laugh out loud and he decides he must meet this witty author. By planting himself in Tower Records the day she drops off the latest issue, John manages to arrange a coffee date that extends over several Saturday mornings. They discuss everything from John's inability to feel and his parent's divorce to Marisol's problems with her suffocating adoptive parents. When Marisol casually tells John that she likes him, he is flabbergasted: "Honest to God a shiver ran through my body… Nobody ever said that they liked me. Ever. Not even [my friend] Brian, who probably actually doesn't." After a disastrous "just friends" junior prom date and a weekend zine conference spent together, John realizes that his feelings for Marisol are more than platonic. And Marisol, who is exploring her identity as a young lesbian, has no idea how to let John down gently without losing her new best friend.
Hard Love is an enjoyable novel about first love. John Galardi was a great character. I loved seeing how he changed after meeting Marisol. I also liked learning about his family life. His mother and father really intrigued me. His mother couldn't bear to touch him, and I think that's just terrible. His father wasn't any better. I actually think his family life was more interesting than his relationship with Marisol, and I'm glad Wittlinger included it. It really builds John as a character.  I had only one major problem with this novel: the ending. It was just too abrupt. Don't you just hate that? When you're really into the book, and then the ending is a big disappointment.
P.S. Because I read this book, right after reading Be More Chill I couldn't help thinking that John's friend, Brian, was introduced to a squip. He starts out as a nobody, and then ends up being in a play where he meets his girlfriend and many other drama kids leaving John to the side (well, kind of).